Cross of Iron
Drama

•
R

•
1977

•
2 hr 12 min
User Reviews
Every movie Peckinpah made has something to say, like the man, interesting, flawed, from the gut
A story of war and glory from two perspecrives. Greatly shot action scenes which being the confusion of battle to life
Good War thriller from Peckinpah. A little slow at times and uneven acting stops it from being great, but still so very close to that rating
Near perfect anti war film another masterpiece from peckinpah
A true war classic from a refreshing German perspective with an interesting theme of class struggle within its ranks
Classic war film with antiwar undertones. Nice production values.
Dated stuff; not Peckinpah's finest moment but still okay
One of the best ww2 movies out there! Rare in that it depicts the german side. Sam Peckinpah at his absolute finest
Chaotic warfare is the highlight here shot in slow-mo as only Peckinpah could. Coburn is a riveting lead. I will probably watch it again.
Probably the closest thing we will get to an adaptation of castle Wolfenstein
It is 1943, and the German army—ravaged and demoralised—is hastily retreating from the Russian front. In the midst of the madness, conflict brews between the aristocratic yet ultimately pusillanimous Captain Stransky and the courageous Corporal Steiner. Stransky is the only man who believes that the Third Reich is still vastly superior to the Russian army. However, within his pompous persona lies a quivering coward who longs for the Iron Cross so that he can return to Berlin a hero. Steiner, on the other hand is cynical, defiantly non-conformist and more concerned with the safety of his own men rather than the horde of military decorations offered to him by his superiors.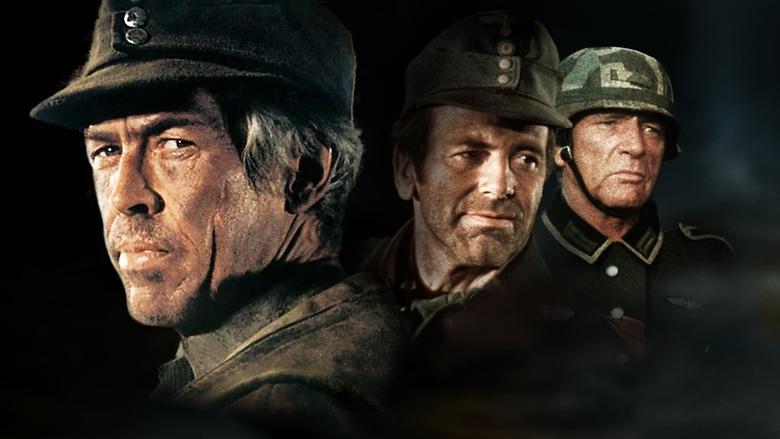 Starting in late May 1944, during the German retreat on the Eastern Front, Captain Stransky (Helmut Griem) orders Sergeant Steiner (Richard Burton) to blow up a railway tunnel to prevent Russian forces from using it. Steiner's platoon fails in its mission by coming up against a Russian tank. Steiner then takes a furlough to Paris just as the Allies launch their invasion of Normandy.