Abang Long Fadil
Action

•
2014

•
1 hr 43 min
User Reviews
You're a pioneer! Be the first to post a review.
Zizan Razak plays Abang Long Fadil, a man who constantly dreams that his life is that of a gangster. But when his best friend, Malik goes to prison, then more chaos ensues and daydreaming may not be too far off from reality. This movie is directed by Shafiq Yusof, the brother of Syamsul Yusof, the director of "KL Gangster".
A story about Fadil who fall into mafia world led by Taji Samprit and his son Wak Doyok. An incident causes Inspector Wahab and Inspector Shuib to suspect Fadil as Tiger, a professional assassin. In the meantime Yana who is a reporter that has done coverage on Tiger's assassination was stuck in the crisis that Fadil are facing. Though he is not a murderer, to solve the crisis Fadil lead the life as professional assassin and attack King Kong which is Taji Samprit's partner in crime who turns to become his enemy. Actions and comedies happen in Fadil's life as professional assassin in his way to clean his name and in finding Tiger's true identity. Can Fadil face all the challenges in his life? Who is Tiger and what mystery lies behind all this while?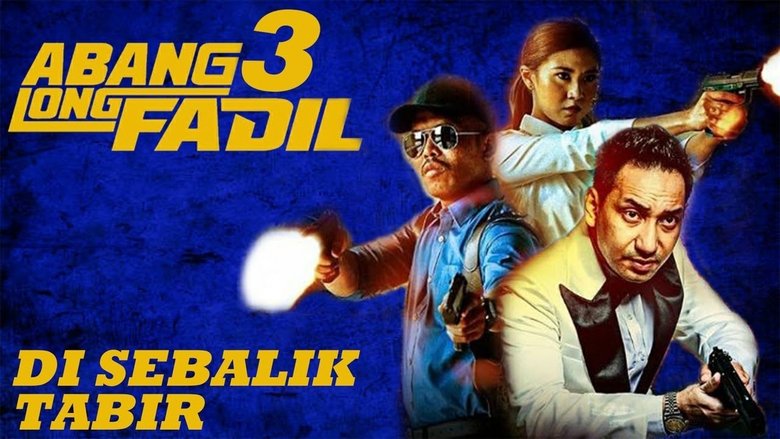 The movie "Abang Long Fadil 3" tells about the life of Fadil who received an offer from "NSS" (NATIONAL Secret Service) to be a professional spy in bringing down a largest group of thug 'SSO" (Secret Society Organization) who led by "Chow Han" which with malicious intent to conquer the country of the archipelago. Agent Fadil is now cooperating with Agent Alice to bringing down the Chow Han's evil conspiracy, but things are getting complicated when "Yana" Fadil's ex-girlfriend interrupted NSS mission. Chow Han realizes that he has been spied on by the NSS, so he sends an assassin "King Cobra" to eliminate Fadil and Alice. Can Fadil complete this mission to save the country? Everything will be answered in "Abang Long Fadil 3"